Do you know the first paragraph
of your press release decides
if reporters/editors will
read the rest of it?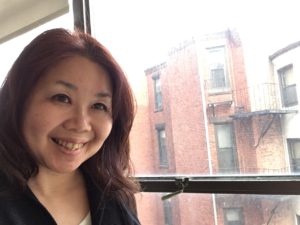 Hiroko Sato, the founder of The Pitch Room, is a former journalist with 17 years of experience working for daily newspapers in the New England region and knows exactly how to get reporters' attention. She also happens to be a Tokyo native and has the ability to connect you with appropriate media outlets in Japan. We offer PR and copywriting services both in English and Japanese. Whether you are trying to reach the American audience or Japanese consumers, we are ready to assist you with the right marketing strategy!
---
Press Release Writing and Distribution

Have you ever wondered why journalists are ignoring your press releases? Chances are they never realized they received your message. Editors and reporters are inundated with hundreds of press releases each day while trying to make their deadlines. We understand what journalists look for in press releases and will customize your press release to pique the interests of particular publications that you are trying to reach.
We will also directly work with news reporters and editors to get your story covered.
---
Website Copywriting & Editing

Whom are you trying to reach on your website? News reporters? Investors? Keep in mind that your targeted audiences aren't necessarily experts in your industry or research field. If your website is filled with jargons and technical details, they will not understand it, or worse, lose interest and leave the site.
The Pitch Room knows how to explain things in ways that make sense to and interest everyone. Let us rewrite the content of your Website and help you grow your business! We do both English-to-English and Japanese-to-English rewriting.
---
Copywriting for Presentations (PowerPoint), Brochures and other PR Materials
We create copy for your presentations, brochures and other PR materials both in English and in Japanese. We also translate these materials.
---
Marketing Coaching & Consultation
Are you new to PR and hoping to learn how to do it yourself? Or, do you already have an in-house PR/marketing team but would like some advice? We provide coaching to help you become more proficient at marketing. We also sit down with you to develop a comprehensive PR/marketing plan for your business.

---
Translation & Appointment Services
We help our clients set up business appointments and provide interpretation services. We also assist Japanese journalists with their assignments in the United States by finding appropriate interview subjects and making interview arrangements.
---
---
The Pitch Room, LLC
We are located in the Greater Boston area.

CONTACT:    [email protected]